Helping Eye Surgery Centers For Nearly 20 Years
CPR Anesthesia, Inc. has been a leading eye surgery center anesthesia management service provider for new and established eye surgery centers for almost two decades.
We have an in-depth knowledge of this medical specialty and assist each eye surgery center to provide quality ophthalmic services to their communities in the most cost-effective and efficient way.  We understand that anesthesia care for the eye surgery center patients undergoing ophthalmologic surgical procedures during local/regional anesthesia is a balance of patient comfort with safety and an optimal outcome.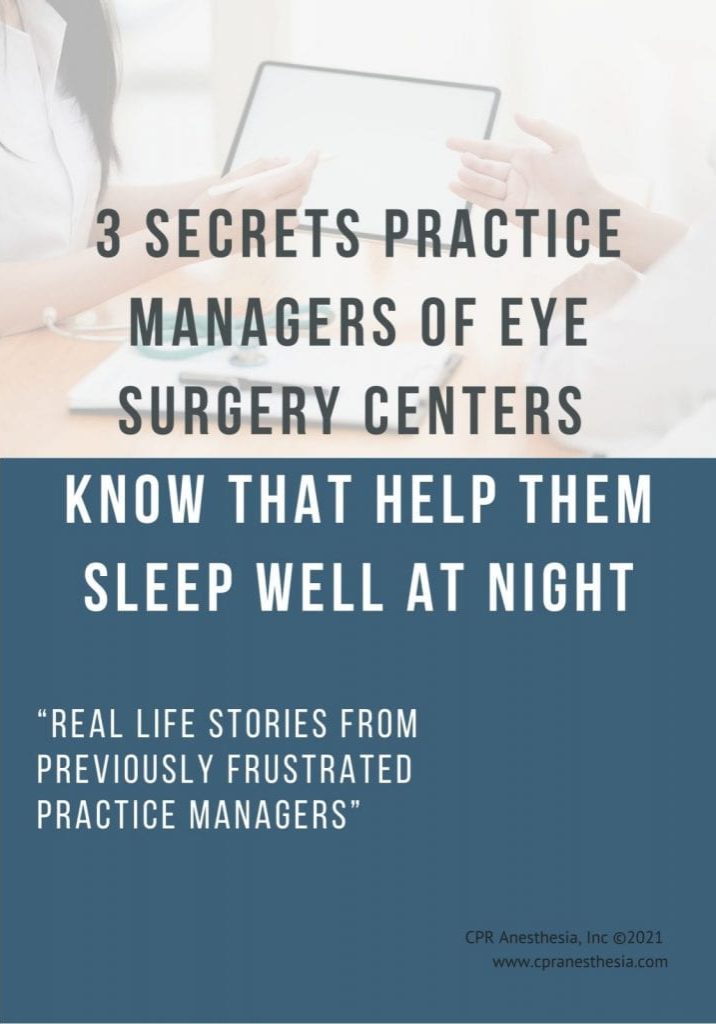 "3 Secrets Practice Managers of Eye Surgery Centers Know That Help Them Sleep Well At Night"
CPR Anesthesia, Inc. has successfully supported anesthesia departments in more than 125 facilities across 20+ states, with customized solutions to meet each facility's individual needs.
With the growing need for ophthalmic surgery, we can help provide the best strategy to deal with this challenge by developing a realistically workable system in place in order to tightly control the variables and provide the highest possible care to your eye surgery center patients.
World Class Anesthesia Partnership
We have the longevity and industry experience required to consistently provide uninterrupted 24/7 anesthesia coverage at all our facilities. CPR Anesthesia, Inc. is dedicated to resolving anesthesia management, staffing or billing issues that may arise for your eye surgery center.
We will work with you to develop a system that works for your eye surgery center, implementing only what you need when you need it.
Our Eye Surgery Center Support Services
Our surgeons were a little reluctant to make the move to CRNA coverage for Anesthesia for our eye cases, but when the market factors forced the change, CPR Anesthesia, Inc. jumped right in to provide a solution in a matter of weeks. CPR Anesthesia, Inc. and their team have been reliable, team players, safe for patients, and committed to the overall philosophy and culture of our ASC and we enjoy working with the admin staff and CRNA's at CPR Anesthesia, Inc.. We would highly recommend them for any ASC that may be looking for a change, or in a position where change is inevitable as was our situation.

- Albert C.
CEO, SAEC